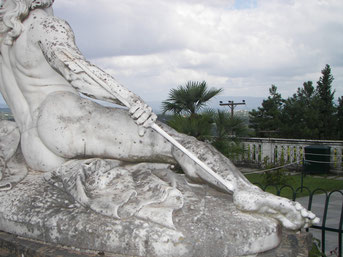 His lowly heel is where our imaginations go when we hear Achilles' name. We don't think of his military prowess, can't name all the battles he won. The many foes he vanquished remain nameless. We think of his heel.
You know the story from Greek mythology. Like each of us, Achilles had a mother. And like every mother worth her salt, she was a worrywart. Fearful that her son might die an early death, she took her son to the River of Styx, which was said to offer the power of invulnerability. So she dunked her baby in the river, holding squirming Achilles by his heel, the only dry spot on him spared the river's magic. Achilles grew up to be a menacing man of war, seemingly impregnable. Then came the day a poisonous arrow with his name on it struck and lodged in his heel, killing him. So the heel's what we remember most.
Achilles' story remains a curious Greek artifact until its truth gets under our skin where the heart thumps. Swiss psychologist Carl Jung believed that the great myths are classical in that they have the capacity to address people in every age and culture with transforming power and urgent appeal. In fact, certain myths and symbols have a kind of insistent resolve: they seek us out and speak their piece through our dreams, intuitive hunches, a song, book, or poem, even what seem to be certain coincidences, just when we our lives need it most.
The myth of Achilles accosted me about two years ago. I was mindlessly weed whacking my backyard one beautiful late-July day when I brushed against what turned out to be a wheelbarrow, leaning against the shed. It slid down and with a very quick, clean chop to my heel, severed my Achilles tendon. That moment put a halt to much that I hold sacred. It would be three months before I could walk without crutches or a cast. Another six months before I could run again, though "waddle" might best describe my gait after the hiatus. A couch potato penguin could have given me a run for my money!

I'm a lifelong runner. I've run through all sorts of challenges--adolescent insecurity, young adult ambition and life choices, parental and pastoral concerns, my mother's early death. Running has been both my shield and my metaphor for life: I press on with passion, my own frail pursuit of impregnability. But here I was being given an even greater gift. This rupture provided me the lived sense of being, as Reynold Price once put it, "provisionally mobile." I was a gimp, hobbled, forced to be held up by others. The myth of Achilles moved in, incarnated itself, its words became flesh and blood. Pastor and activist William Sloane Coffin, fed up with hearing the cliched critique that the Church is a crutch, replied, "Of course it's a crutch. What makes you think you don't limp?" I limped, and knew it in my bones. Further, I knew the chances were good, no matter how well I recovered this time, that one day all too soon I would limp again.
I'm back at it, walking Maya the Wonder Dog and running again. My right foot is scarred but healed. It still tightens up and talks back, but complies for the time being. Two days ago I was out in it, running like I was 16 again, blue-skied day, light breeze, spring greening out on all sides (imagine a Nike commercial). That's when a black bulldog appeared from nowhere. Clearly, this was his street, so we were off to the races! He made three passes at me, each time growling and growing closer. I stayed calm, shushing and shooing him away. But on the third pass, I could feel the warmth of his breath and his wet nose against my right ankle. I saw red. Just before his teeth set, I let him know that that size 13 foot he was chasing was about to become a fist. At just that moment a woman's voice yelled, "BRUNO, you git home!" So he did. Just like that. Then as I ran on I heard, "SORRRRY!"
We all have our Achilles' heel. If you're like me, you might have several such heels. We're vulnerable, despite our posturings at perfection. No matter how secure, things can turn on a dime. But there's another aspect of Achilles' story that has landed in my heart like a seed: I'm haunted by the fact that his vulnerability came from being held. Despite his mom's motives, what made Achilles most human was how she held him with loving intent.
We do our best. We try to hold on, hold out, hang on, try, try, try again, only to end up more distant and shielded from the life we love. We sometimes try so hard, hold on so tightly, we begin to lose our grip. Maybe you're done. Maybe, as Bruce Cockburn sings, you've proven yourself so many times "the magnetic strip's worn thin" ("Pacing the Cage"). Maybe you're ready to be held again, knowing full well that the only way to be held is to be vulnerable, to trust, to be open. Maybe when you come to this place, the world comes to you, God comes to you, your loved ones even, they come to you in your need, sheer gifts who want only to hold you too.
---